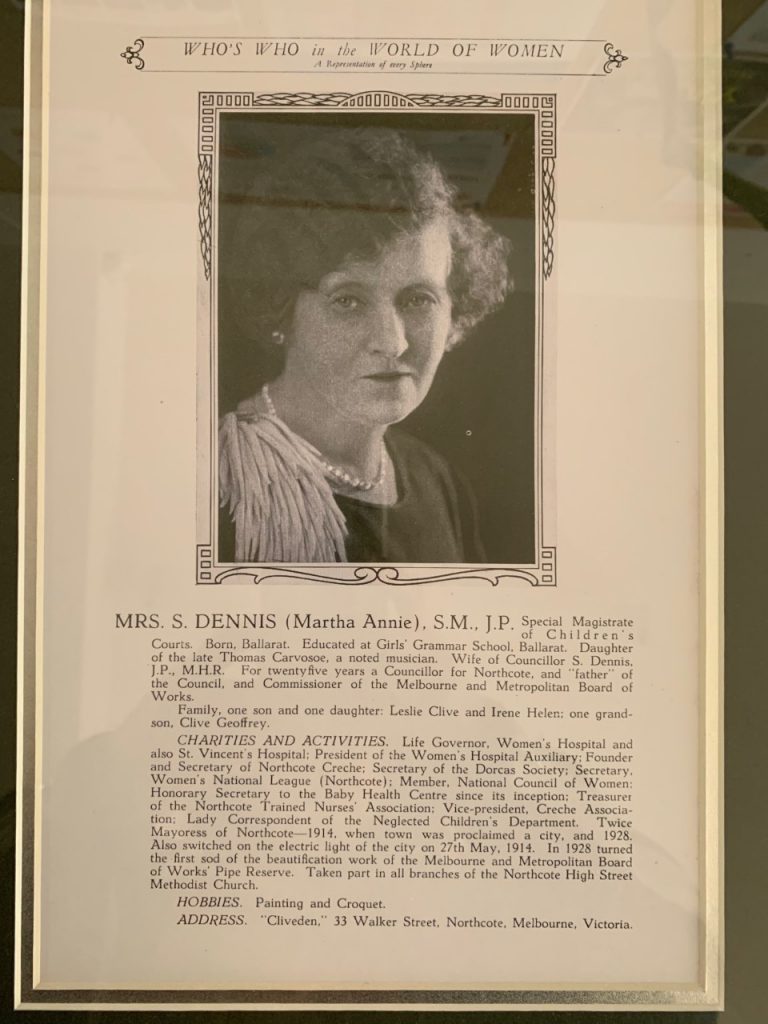 The two-storey building that fronts onto the Bastings Street playground dates from the 1860s. It is one of a small number of mansions in Northcote that date from this pastoral phase of the area's history. The Centre was officially opened on 6 February 1929 by its founder Mrs Martha Annie Dennis.
Mrs Dennis was involved in many community welfare programs, mostly concerning women and children. The Centre was originally known as the Northcote Creche and Day Nursery, but it was later renamed Oldis Avenue Childcare Centre. The Centre was managed by a committee of prominent citizens and was established to assist working women.
In 1936, a kindergarten was also opened on the site and was named Annie Dennis Kindergarten. At the time, it was only the third kindergarten in Victoria.
In the early 1980s, the management of the council-owned building and centre operation was handed over to a parent committee of management. The City of Darebin maintains the building and provides ongoing support in the provision of early childhood care and education.
In 1994, extensive renovations were carried out to physically link the Oldis Avenue Childcare Centre and Kindergarten. At this time, the Centre was also renamed Annie Dennis Children's Centre. From 2001 to 2005, the Centre underwent further renovations, the most notable of which included the renovation of the kindergarten room, the relocation of the Maternal Child Health Centre (MCHC) to its current location and converting the building that originally housed the MCHC to children's rooms.
In 2009, the Centre celebrated its 80th anniversary with an open day attended by representatives from local council, the community, the childcare sector and families past and present.
Playground works in the Bastings Street yard commenced in 2018. In 2019, the kindergarten playground was redeveloped, a project made possible by an Inclusive Kindergarten Playground grant from the Victoran Government. In June 2019, the new inclusive kindergarten playspace was officially opened by the Hon. James Merlino, Deputy Premier and Minister for Education, along with Kat Theophanous, Member for Northcote. The playground is officially named after centre director Lara Bamundo.
Annie Dennis Children's Centre continues to evolve to accommodate the changing needs of the wider community, such as the integration of kindergarten with childcare